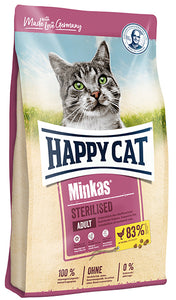 Selvafhentning på Hækvej 3, 7540 Haderup. Levering kan arrangeres. Ring eller skriv venligst.
Minkas Sterilised Adult Chicken
Available in 10 kg
Adult neutralized cats

Reduced fat content

Poultry

Contains taurine

With yucca schidigera

83% animal protein

33/9 Protein / fat

Recommended by veterinarians and breeders
Description
Happy Cat Minkas Sterilized, with poultry, is specially adapted for neutralized cats. The fat-reducing and satiating complete feed, contains valuable animal proteins and is 100% balanced and natural. The feed is produced without artificial flavors and preservatives. Made in Germany under the strictest quality control.
Ingredients:
Poultry protein ** (25%), maize, greens, wheat flour, wheat, cornmeal, lignocellulose, fishmeal, poultry fat, beetroot * (sugared), sunflower oil, apple kvass *, sodium chloride, potassium chloride, rapeseed oil * yucca schidig %), *) dried **) dried, partially hydrolyzed.
Kcal / Energy:
1460 KJ / 100 g; 3490 Kcal / kg
Analytical components:
Crude protein 33.0%, crude fat 9.0%, crude fiber 5.0%, crude ash 5.5%, calcium 1.05%, phosphorus 0.7%, sodium 0.45%, potassium 0.65% , magnesium 0.1%, omega-6 fatty acids 2.0%, omega-3 fatty acids 0.2%.
Additives:
Vitamins / kg:
Vitamin A (3a672a) 15000 IU, vitamin D3 (3a671) 1250 IU, vitamin E (all rac-alpha-tocopheryl acetate 3a700) 75 mg, taurine (3a370) 1000 mg, antioxidants, tocopherol extracts from vegetable oils 1b306 (I ).
Trace elements / kg:
Iron (iron (II) sulphate, monohydrate 3b103) 130 mg, copper (copper (II) sulphate pentahydrate 3b405) 12 mg, zinc (zinc oxide 3b603) 100 mg, manganese (manganese (II) oxide 3b502) 15 mg , iodine (calcium iodate, anhydrous 3b 2 O 2) 1.5 mg, selenium (E8, sodium selenite) 0.15 mg.
Amino acids / kg:
DL-methionine (3c301) 4500 mg.
Recommended daily feed quantity (g / day):
Make sure that fresh drinking water is available at all times, at a good distance from the feeding bowl. Given the difference between the individual cats, the stated daily amount can be reduced by up to 15%. Divide the daily amount of feed into several meals.
---